Sam Davies, skipper de l'IMOCA INITIATIVES COEUR :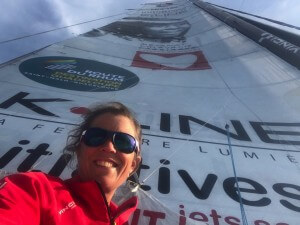 Hello!
It is a beautiful day here in the entrance to the English Channel. I would be happier if there was a little bit more wind, but I'm not complaining because Isa and I have managed to wiggle through some calm patches and others have not been so lucky! Ideally right now I would be sleeping, because I am exhausted! Although the light winds give us a respite from the violent movement and noise that we are more accustomed to, the last 24h have been full of manouvers and sail-trimming, physically hard and not much sleep. I did manage to get some naps though – a few blocks of 15 minutes last night and a couple of 40min sleeps in my hamac this afternoon. No sleep just now though because I am waiting for the perfect moment to tack North…. if I sleep I might miss it! The good thing about going slowly is enjoying the fresh air outside without getting soaking wet, being able to cook, eat and move around without being catapulted across the boat…. enjoying the sunsets and sunrises ….
The start and the first 24h have gone how I planned and I'm proud to be out in the lead. Trying to keep up with Isa is pretty hard as she sails Monin very well, and Initiatives Coeur is less well suited to going upwind with our foils. We had a chat this morning – it's nice to have some company offshore when we're all alone on our big boats! Right now we have been joined by 2 Multi 50 too so we have a nice little group for the night ahead!
Well, I'd better go and check the sail trim….
Sam xx
Copyright : Sam Davies / Initiatives Coeur